My kegerator is equipped with Ventmatic forward seal faucets. These are great faucets for taps that are "infrequently" used. Regular beer faucets seal in the back and not all of the beer in front of the seal drains out. After a couple of days of non-use the beer in front of the seal gets sticky and faucet locks up. A stuck faucet was a fairly common occurrence with my kegerator until I got the Ventmatic faucets. They are really nice faucets with a high quality of workmanship. Unfortunately the company went out of business, so getting any sort of parts for them has been a bit problematic. Recently I discovered a small CNC machine shop that makes spouts for the Ventmatic faucets.
I was looking for alternatives to the Blichmann beer gun for bottling beer from a keg and came across Center Line Technologies. They are a CNC machine shop with a few products geared toward home brewers. One of the products they sell is a spout that allows a beer line sized hose to be easily attached to a Ventmatic (or Perlick) faucet. It looked like it would make filling growlers and bottles much more convienent. The people posting on the forum where I found the reference to Center Line had great things to say about the company, so ordered one of the spouts. They also sell 8 mm spouts for the Ventmatic faucets. The spouts are advertised as decreasing the amount of "hallow pours" compared to that of 11/12 mm spouts. Hollow pours agitate the beer and produce unwanted amounts of foam. I have noticed hollow pours with my faucets, so I decided to order some 8mm spouts as well.
Two days after I placed my order the spouts arrived. The first thing I noticed was the high quality of workmanship--the spouts looked very nice. I removed spouts that were on the faucets and screwed on the 8 mm spouts. I noticed that they did not screw in all the way. I saw mention of this in the forum, but I thought the issue had be resolved. I made a note of it and proceeded to pour a beer. The spout performed great, I did not see the "hallow pour" bubble develop and there was less foaming. I decided to send an email to the machine shop to ask about the spouts not screwing in all the way. I very promptly got a response back saying it was not expected. They mentioned that there have been a few people reporting the problem and if I was willing to be a test subject they would try to resolve the issue. I told them I would be happy to help, so they are going to machine some more spouts and send them to me to test. So far I have been very impressed with the level of service from Center Line Technologies. On their website they also list custom mill work as a service they provide, so I am thinking about designing some custom tap handles and seeing how much it would cost to have them machined. Center Line Technologies can be found online at centerlinemachining.com.
Update (10.02.2009)
Center Line found a local customer experiencing the same issues as me regarding the spouts not screwing in all the way. They will be testing with that person and will let me know what they figure out. I also sent Center Line a drawing of the tap handle I wanted to create, they said it was a bit more complicated then they can handle. Oh well, it would have been nice, but certainly was not necessary.
Update (10.25.2009)
I got my spouts back on Friday (10.23.2009) and had a chance to try them out today. Center Line added a taper to the top of them and now they screw all the way onto the Ventmatic faucets. They paid for shipping both ways and did not charge for the update. They provided great customer service and the spouts are a nice product. I definitely recommend the spouts to anyone out there with Perlick and Ventmatic faucets.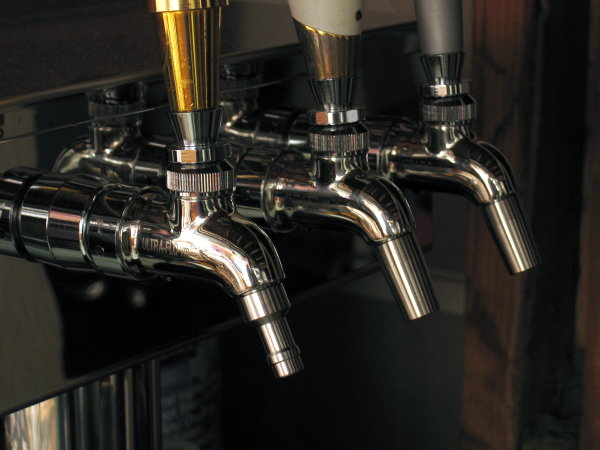 Growler filling spout and two 8 mm spouts